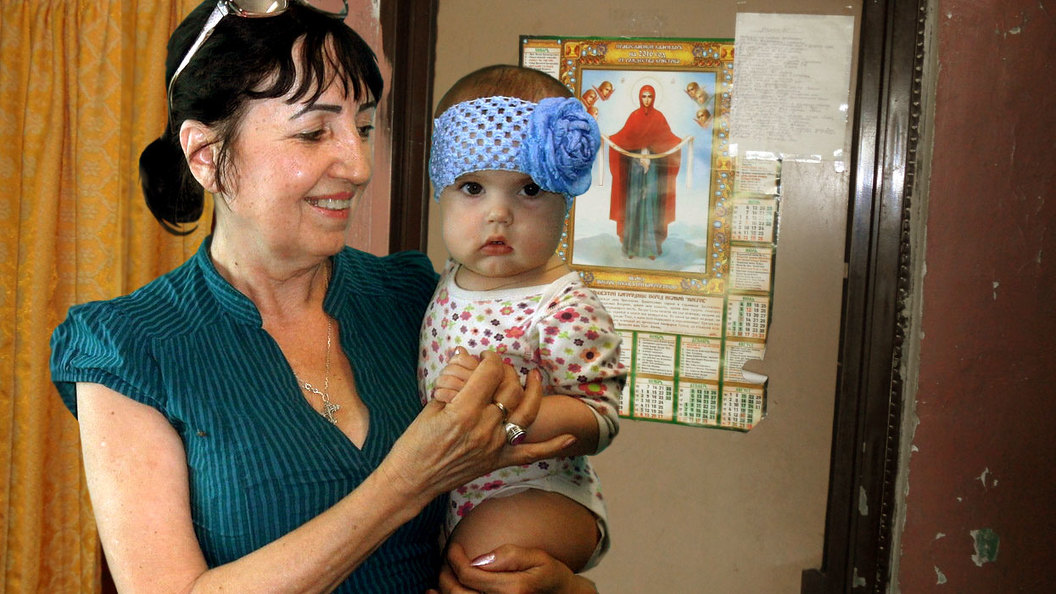 Against the backdrop of the recent scandal, started by the Ministry of Foreign Affairs of Ukraine concerning the Deutsche Welle that called the fighting in Donbass a civil war in one of its articles, it's high time to recall the severe cruelty which Kiev обошелся со своими Russian female citizens.
AUTHOR
Tsargrad decided to tell the stories of only three women, three out of hundreds that hide in the rooms of a Donetsk dormitory, out of thousands of stories in Donbass on both sides of the line of contact, and buried in its soil, crying to Heaven.
Elena
A citizen of Kharkov Elena Petruk is a new citizen of Donetsk – she started to live here after the last prisoner exchange that took place in December of the previous year. Just before that she has spent two years and eight months in Ukrainian prisons. She has spent five months in a basement, in a solitary cell, and ten days of hunger…
"They kidnapped me on 28 April 2015 in the centre of Kharkov", she recalls, "They hit me in the face, put a bag on my head, clapped handcuffs really tight, got me in a car and drove away. As I have found out later, it was the SSU building. And the things started: they beat my body with a metal club, shot below my head, broke my fingers. I still have scars, because my legs and my nose bridge were broken. They threatened that they would bring my daughter and my daughter-in-law there and sexually abuse them just in front of my eyes."
And this all is because Elena refused to put up with "Ukrainian winter" that replaced the "Russian spring". Instead, she founded a volunteer movement "Vozrozhdenie" (revival), she even managed to register it officially. The members of the movement transferred food and humanitarian aid to the combat areas of Donbass and helped usual people to travel to Russia.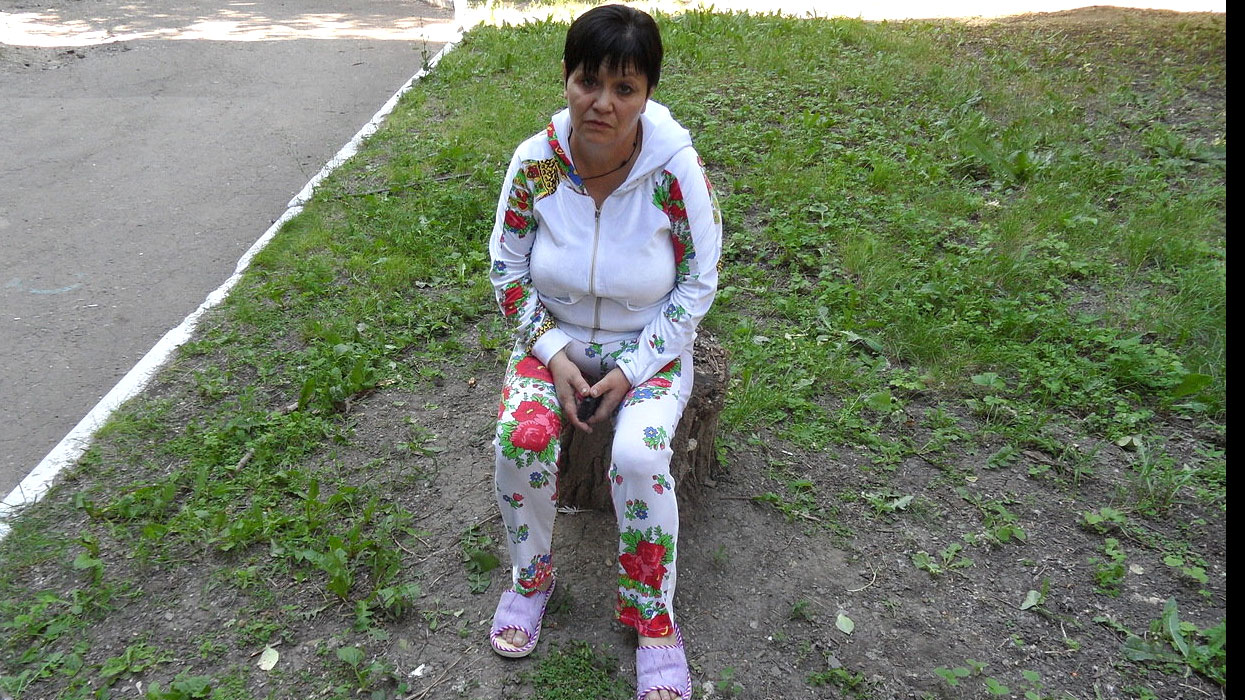 The torturers tried to force the woman to slander against her fellows, but she turned out to be stubborn and denied everything. By the way, during the whole time she has been detained, she has not been brought to trial.
"They constantly prolonged my detention, as another two months passed," she recalls. "I started a hunger strike, demanding a prosecutor, but no one reacted to this. In Ukraine, the SSU calls the shots! The court hearing took place on December 18 last year, my measure of restraint was changed for house arrest. But instead of driving home to Kharkov and put a bracelet on me, they took me to Donbass, to Svyatogorsk. I told them that I had to appear at the court hearing on 22nd, asked them to take me there, but no one did."
In the end, Elena was exchanged, and the Ukrainian court declared her wanted. As a terrorist. Since then she lives in Donetsk. In a dormitory. She is trying to be active – "organize" people in the same situation, her comrades in misfortune, she joined the local Cossacks.
"I understood that the Republic is now at war, so no one would meet us with a red carpet, but they gave shelter to us, "she says. "I want to thank Alexander Zakharchenko, as well as Daria Morozova, DPR Ombudsman."
Now the way home is closed for Ms Petruk. Her daughter with her two grandchildren and her daughter-in-law with her three grandchildren stay there. She communicates with her relatives through the phone and via the Internet, using general phrases, so as not to harm them. Because she is declared an enemy on that side. And those whom they declare enemies will not get any mercy.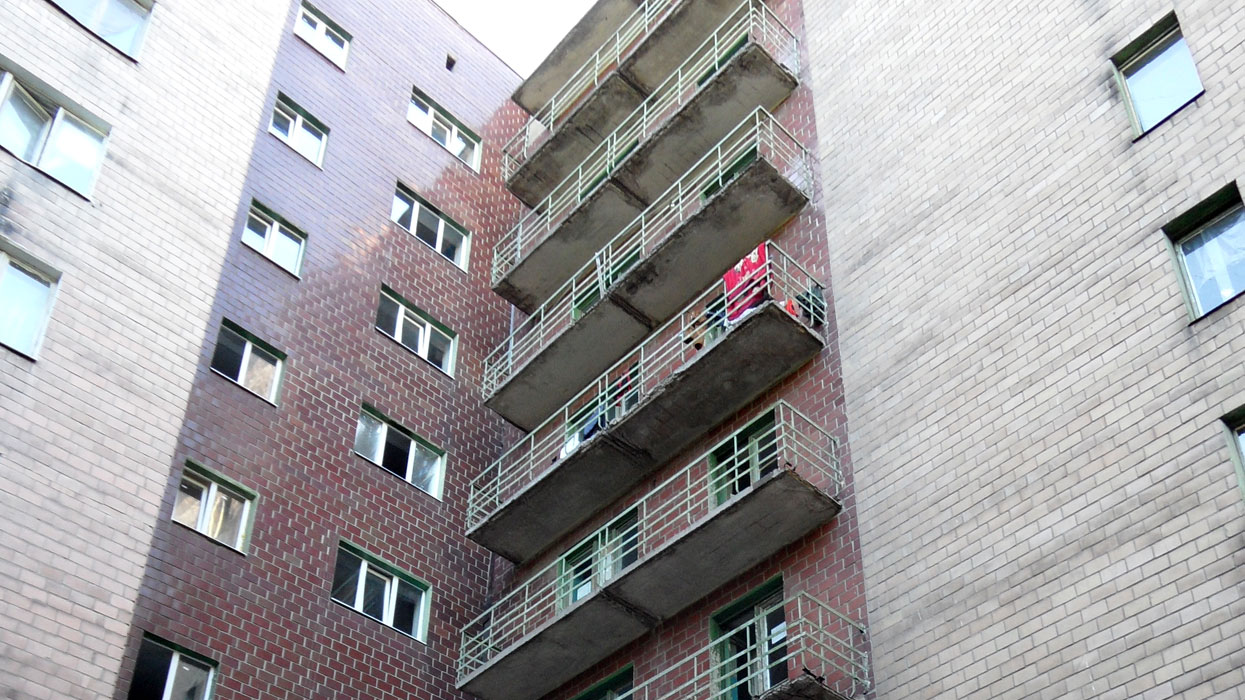 A dormitory in Donetsk, where IDPs from occupied areas of Donbass live.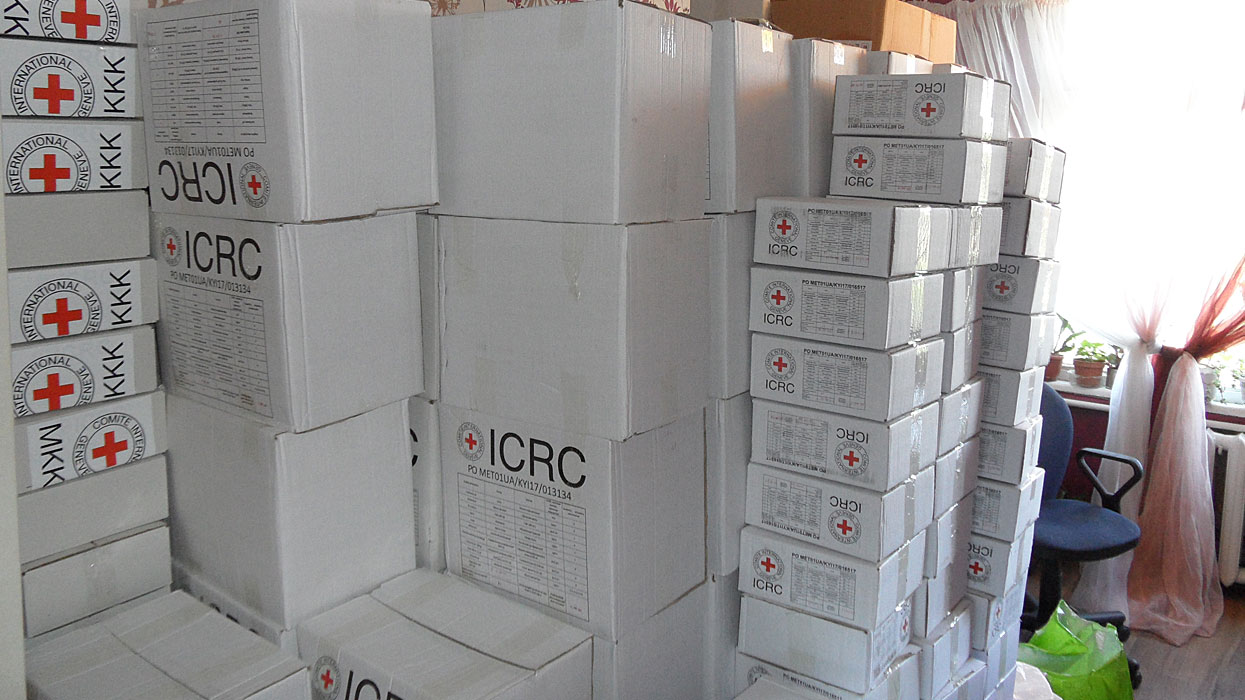 Humanitarian aid in a dormitory supervisor's room.
Larisa
Residents of Mironovsky village, which is twenty kilometres to Debaltsevo, went to a referendum of May 11, 2014, on the establishment of the Donetsk People's Republic as to a holiday. The turnout was almost one hundred per cent, music was everywhere, and a salute lit the sky. Everyone was waiting for the beginning of a new life. Instead, shells and bombs of Ukrainian aviation came. Larisa Baytolokha worked in a referendum. When the village was first attacked, her husband joined the militia in Gorlovka. There's no militia in Mironovsky village. From time to time, a woman visited her husband, prepared food for the soldiers. In July, the settlement was taken by the Armed Forces of Ukraine and battalions …
"It was September, five in the morning," Larissa recalls. "Several people broke into the house, armed, wearing balaclavas, without any identification signs, not showing any documents. They threw me on the floor, broke my mouth. I began to shout to my daughter: "Katya, do not be afraid!" They turned the whole house over, found my husband's documents, where it was indicated that he was a militiaman. They put Katya in a car and drove her away, to an unknown destination. They put me in a car, put a black jacket on my head, tying up the sleeves, and then, as it later turned out, I was driven to Artemovsk. On the way, they beat me. They brought me to the local SSU and put me in a basement. They beat me until they knocked out almost all my teeth. I have false jaws now; I don't have any of my teeth. They dipped me in a bucket of water. They burned me with cigarette butts, I still have these burns. They did not want to find out anything, they already had an accusation that I had allegedly participated in the shooting of a car at the checkpoint. So they needed a confession, and they wanted me to tell the names of my "accomplices". I signed everything that they wanted from me. After that, I was taken to Kramatorsk, to prison."
Larisa thinks it could have been worse. Because many people kidnapped in this way just disappeared without a trace. This is not surprising, however, considering who worked with the «separatists».
Larisa Baytolokha told about the attitude towards political prisoners in Ukraine
"They were constantly either drunk or high," Baitalokha recalls. "They were inadequate all the time, and they hate us so much." Investigator Oleg Grinyak said that if I hadn't confirmed what they had demanded, my child would have been taken to Kramatorsk airport (it was turned into a concentration camp – Ed.) The prosecutor Vasilenko came, he had a swastika tattooed on his hand. I had a problem – my jaw was knocked out, the remand prison in Artemovsk was very cold, it was winter, and there was no heating, I had abscesses all the time. They took me to the paramedic, and he hated us, Russians, he did the cleaning without any anaesthesia, I lost consciousness from the pain … In general, we were not provided with any medical assistance, except for analgin or something else for the heart, because many people had heart problems after being electrocuted."
Larissa was sentenced to eight years. Subsequently, she was exchanged, that is how she was released. But the life of this woman will never be the same. The husband, who had been wounded, became disabled. For a number of reasons, their family life didn't go very well. The perpetrators did not hurt Katya, her daughter, as it turned out. In her hometown, she found a boyfriend who took her to Kiev. Now she only communicates via mobile phone with her mother, and they do not talk on sensitive topics. Another daughter is in Russia. Only Larisa's mother stayed in Mironovsky, who, while Larisa was tortured, desperately tried to find her, spending nights near the prison walls. She still comes to visit her daughter.
Baytalokha is grateful to the DPR because her treatment was funded by the Republic, including false teeth. Now she works in the utility service office and tries to forget what had happened as if it was a terrible dream. But it is not so easy.
They never treated us like we were people," Larisa said. "As soon as they entered our village, they said that their dogs lived in better conditions than we did. They shot at our homes, and when people started to resent, they answered that dead people do not need any homes. Those were not us who came to their land. If we imagine for a moment that they would like to join Poland, for example, no miner would have taken arms and go there."
Alexandra
Citizens of Pervomaiskoye village, Yasinovataya region, also voted in favour of the DPR. Alexandra Valko, who comes from the Komi Republic, moved to the warm Donbass with her daughter when she was 20 years old, she was a deputy of the village council there. She was well known and appreciated by villagers. The woman was one of the organizers of the referendum of May 11, and when the war broke out, she provided militiamen with food.
In the summer of 2014, Pervomaiskoye village was seized by the Ukrainian army. And in January 2015, "guests" came to Alexandra – the members of battalions.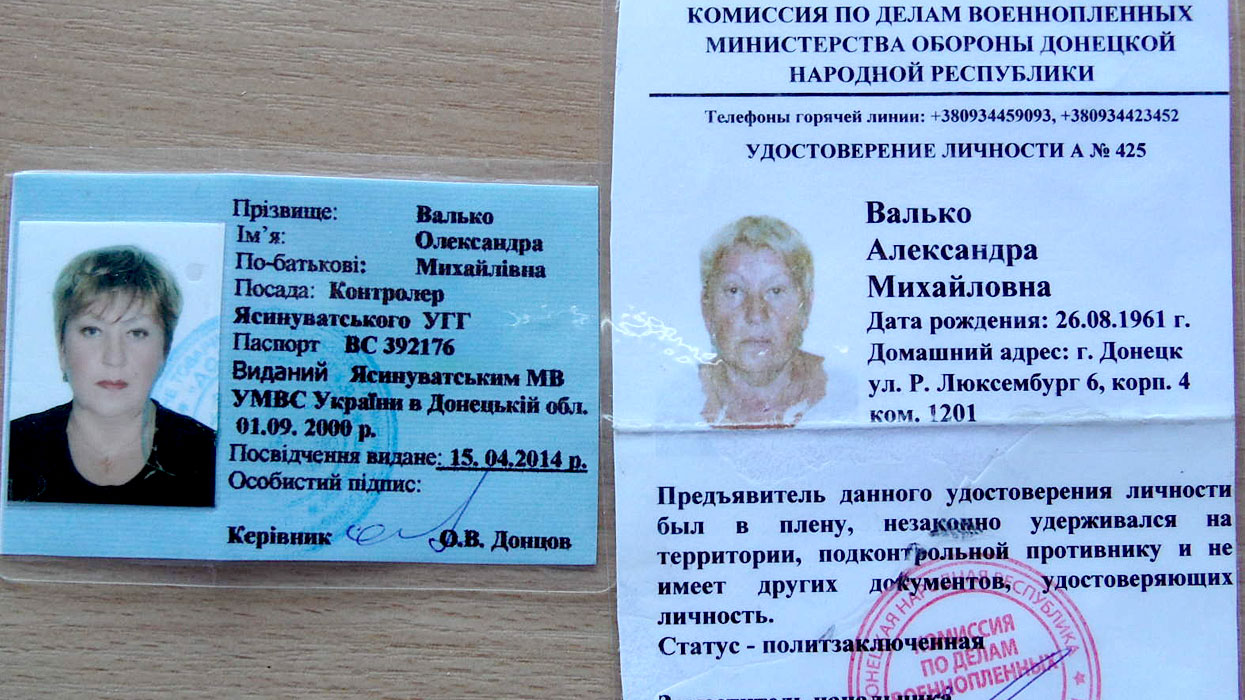 These two photos were taken within a period of one and a half year, this is Alexandra Valko before and after being a Ukrainian prisoner.
"It was a night. After breaking the doors, 12 people with automatic weapons, in balaclava, forced me to provide the deputy's mandate, a passport. They took all the documents, they gave me time to get dressed, and, pulling a hat over my head and face, wrapped my face and hands with scotch tape, put me in a car and drove me away," Valko recalls. – During the trip, they were constantly hitting me with elbows, it hurt me a lot. We arrived, as I later learned, at the "Rossiya" (Russia) mine. They dragged me to the second floor, I fell and struck my feet against the iron steps, I hurt them – then, after 19 days spent there, they got infected. They brought him into a room and put me to the wall, unwound the tape from my hands and immediately put on iron handcuffs."
"And I wore those handcuffs for 11 days. I still have traces of holes on my hands. They beat very hard. One of them said: "Look into my eyes!" He took a knife and poked it in my forehead, threatening to poke my eyes. "You're a traitor to the motherland!" he said. All the time they beat me in the face, I have three fractures on my face, 90 per cent of my teeth were beaten out… Then they told me to stand by the wall and forbade sitting down. They beat me, I fell, and they raised me and again beat me severely with hands and feet. I constantly lost consciousness, I do not remember how many times. I opened my eyes and saw a pair of shoes. They raised me by the throat, beat my head against the wall. They strangled me and let me fall. As I fell, they started kicking me. They did not feed me, they did not give me any water, and they did not take me to the toilet. "
According to Alexandra, the torturers wanted her daughter, the activist of the Donetsk People's Republic, who backed off along with the militia, to come to her. They called her, they lied that her mother was in a hospital, asked to come and see her.
"One of them came to me and said, "tomorrow we will take your daughter, she will be here." And then someone began to knock on the wall, a woman shouted: "Mommy, help me, it hurts!" … So I was broken psychologically. And they gave me some white liquid to drink. Now I understand that it was some narcotic substance, otherwise, I would not have survived; I would have died from a pain shock. "
According to the woman, one of the young militants, who came from Chop in Western Ukraine, took pity on her and began to secretly bring her water and salo.
Alexandra Valko about tortures and humiliations in the Ukrainian captivity
"He said: granny, I brought you some salo, do not eat it right away, and save water, I'll come back in four days, I'll bring you some more. He brought me wet napkins, sanitized my hands, I had long fingernails, and they broke them, everything got infected there, and he treated me. I asked him to weaken the handcuffs because it was very painful, and he, while there was not anybody around, weakened them. Everything in my mouth was broken, he put thin slices of salo inside. When I was taken prisoner, I had a weight of 120 kilograms, and after 19 days I weighed 57 kilos."
After she spent days in that torture chamber, Alexandra was placed in a cold room, which she called a freezer. There, Alexandra stayed for two and a half days. There she noticed some holes on the wall and smeared blood. Then, she was dragged to a gym, where she was handcuffed to a pipe.
"There, they did not beat me anymore," Valko recalls. "Eighteen days have passed, and one soldier told me that the following day I would be taken to court." I asked for a lawyer previously, but the answer was: "Terrorists are not supposed to have a lawyer." And I did not give any evidence to them, because they did not ask anything. Then they brought me a large bowl of borshch, two bowls of buckwheat porridge with meat, I could even see pieces of goulash there, a jar of compote, a box of biscuits, a box of dry bread cubes, and they added: "Sorry, there is no bread, you can eat without it." They put it all neatly on a tabouret, and even put a napkin there.
As I analyze it now, I suppose that they wanted me to eat all that and die after so many days of hunger. But I just drank the compote. .. Moreover, they were violently beating a guy with a rubber hammer, used to lay tiles, just next to me. This food in front of me, and this man in his blood, screaming… How could I eat? Then, when they left, he crawled toward me, was not handcuffed, and it was painful to see how he ate porridge with his hands, hid the dry bread cubes in his bosom, said that he had been kept in a hole for three days. I don't know what happened to him later."
And on February 14, Alexandra was taken to court, as promised. They didn't let her wash her body after so many days spent in inhuman conditions.
"They put me in a car, and tied my hands with a scotch tape again. When we arrived, they took me to a room, and the investigator said: "Well, what can we do with this granny? Let's place her under house arrest. And I will take her to the place of residence myself." And they did so. And the next morning I was already in Donetsk. People helped me to escape through the Ukrainian checkpoints."
Valko was accommodated in the same dormitory for displaced persons. At first, she could not eat, Alexandra vomited, her jaw was broken. In order not to go insane, she worked in a kitchen, she cooked.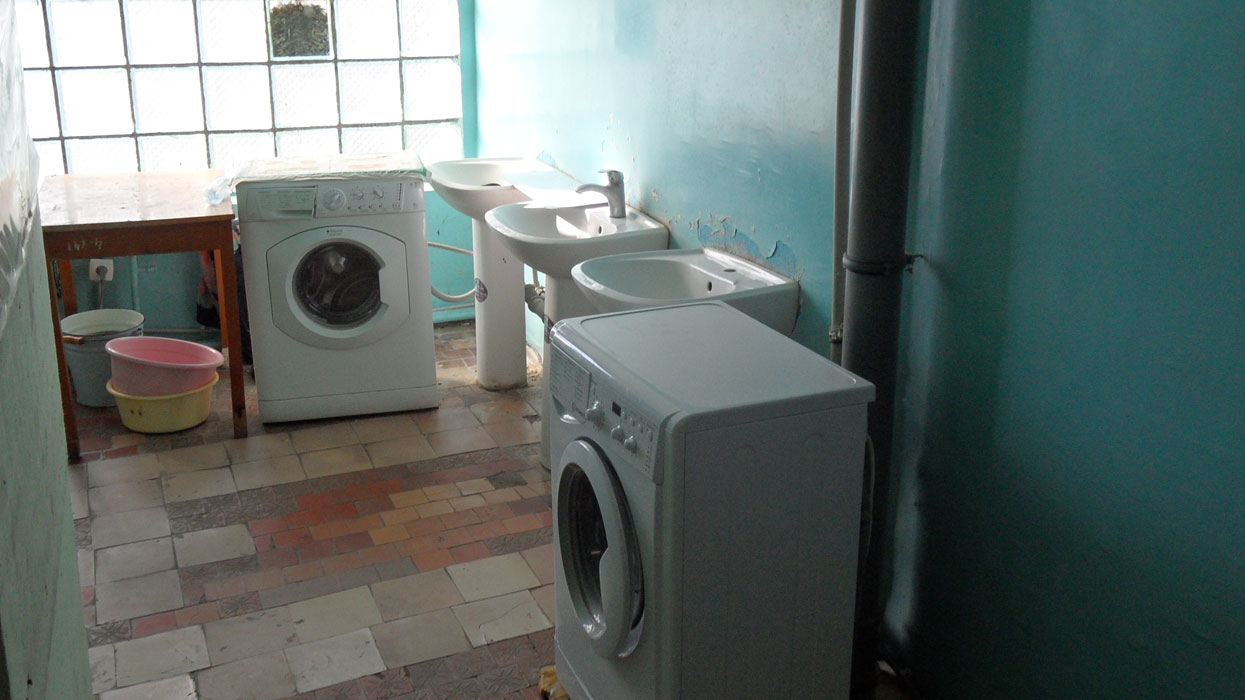 Inside the Donetsk dormitory, where displaced persons from occupied areas of Donbass live.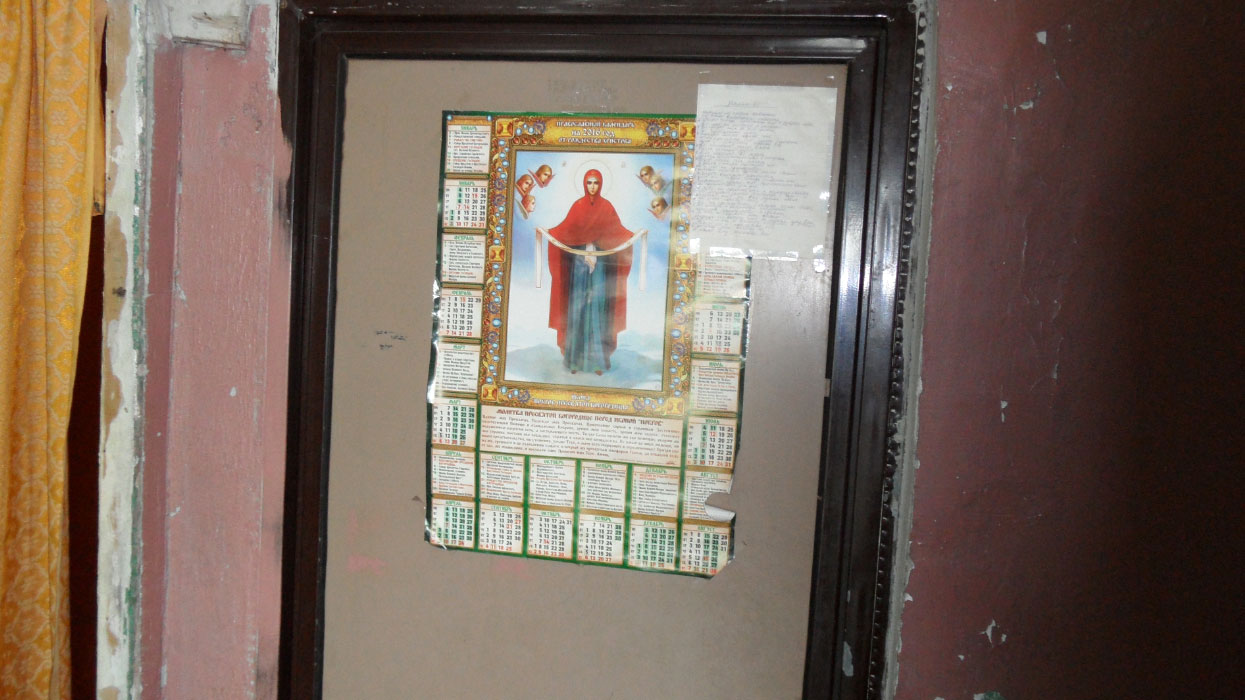 Inside the Donetsk dormitory, where displaced persons from occupied areas of Donbass live.
The DPR provided all necessary surgery to her, as well as false teeth. But the other misfortune happened to her – diabetes. And now the woman's legs darken, gangrene appeared … She gets insulin free-of-charge in the DPR, but other medicines cost a lot, and it is really hard to buy all these – her pension equals two thousand nine hundred rubles.
When I was undergoing an ultrasound, the doctors could not understand for a long time what were the balls I had along my spine, and then it turned out that those were blood clots under my skin that did not dissolve," said Alexandra Valko. "Those people, who tortured me, are worse than the fascists, they took away my 20 years of life. But they will never enter Donetsk, everyone will stand against them, from children to the elderly, everyone will take weapons and never let them in. "
It is hard to believe in the stories of these poor women. It is extremely difficult to accept the fact that such a thing is possible. But it's true. It's hard to believe, but it's true. And those who like to speculate about the return of Donbass to Ukraine, I would like to recommend to look into the eyes of these women.
Source: TSAR GRAD