Strange things happen in Ukraine. People are seized, brutally broken there; terrorism cases with large sentences are fabricated for the mere suspicion of sympathy for Russia. Sometimes they are released on the decision of the court.
This happened to a citizen of the Russian Federation Yevgeniy Mefedov, whose blame for the events of May 2 (the man was affected while hiding in the House of Trade Unions, he burned his hand and inhaled carbon monoxide, and was arrested in the hospital), could not be proved even by Ukrainian courts. The authorities had tried to release him twice: the first time they didn't because of Maidan activists who ran into the courtroom, so the judges together with the prosecutors had to come up with a new charge against Mefedov; the second time they didn't under the decision of the Ukrainian leadership that decided to keep all the prisoners – Russian citizens – in order to exchange them for Ukrainian terrorists held in Russian prisons.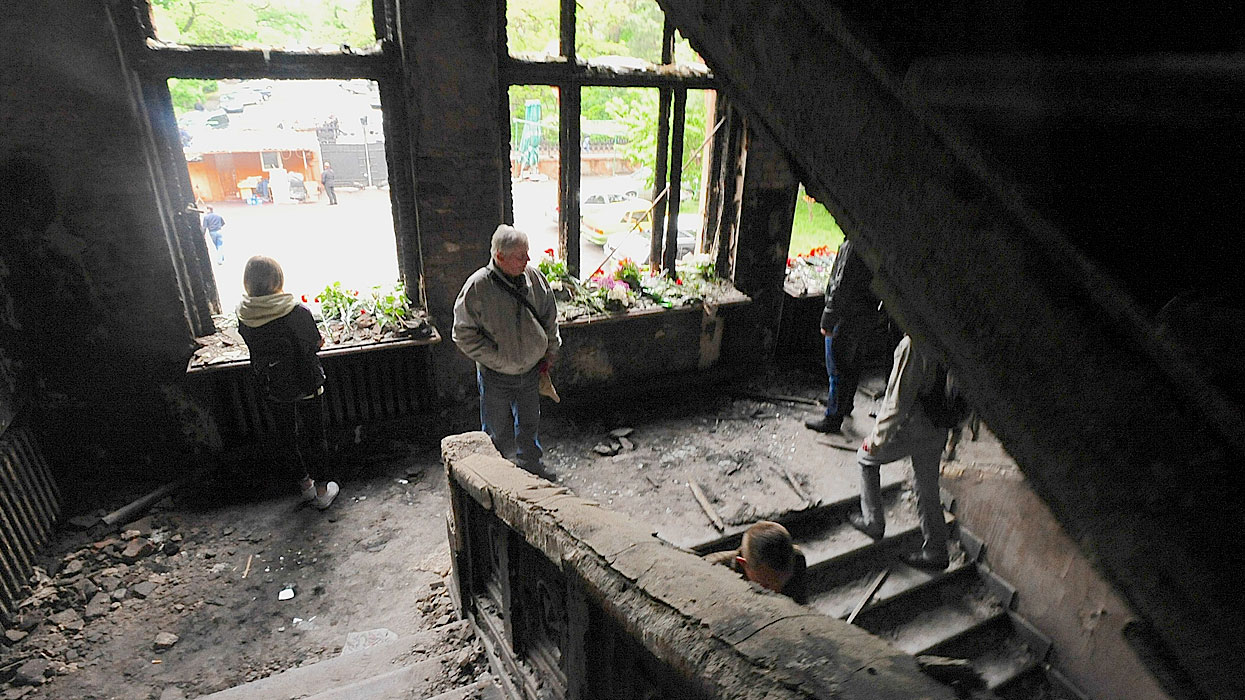 Another prisoner of Ukraine, who had been released, was a Brazilian  – Rafael Marquez Lusvargi – a militiaman, a descendant of Russian Old Believers, who fought in the DPR. After being wounded, he returned home to Latin America, where he was lured by the Security Services of Ukraine and arrested through a fake agency by an attractive job offer to work for an international security firm. The man was sentenced to 14 years but then released on recognizance because he was apprehended in violation of existing international norms. Subsequently, the fake accusation of terrorism was contested, and Raphael was obviously prepared for an exchange.
After the release, Lusvargi became a labourer in one of the Kiev monasteries, but, unfortunately for him, propagandists from the Ukrainian office of the American Radio Liberty found out about him and spread the information that a "militant" walks around Kiev. After that, several men came to his place, and took the poor man to the SSU, beating and humiliating him…
The one who released him himself 
A citizen of St. Petersburg Igor Kimakovsky was much luckier than Lusvargi and Mefedov. He was born in Makeyevka, spent his childhood in Odessa and the region, and became the Director of the Centre for Computer Technologies of the St. Petersburg State Agrarian University. As the armed conflict in Donbass began, he started to provide humanitarian aid to the warring region. As Debaltsevo was liberated, he came to this city with humanitarian aid and stayed there. For two months he helped to restore the destroyed schools and kindergartens, and monuments to the heroes of the Great Patriotic War.
In 2015, during one of the working trips to the Donbass, he accidentally drove at the Ukrainian checkpoint. SSU officers were so happy about such a catch. They claimed that Igor as an FSS (Federal Security Service of the Russian Federation) agent, then accused him of illegally crossing the border, financing terrorism, participating in a terrorist organization, waging an aggressive war …
In prison, Kimakovsky kept his character – he organized holidays for political prisoners, introduced a new tradition on Krasnoarmeysk remand prison – New Year, Christmas, Easter and Victory day parcels for all political prisoners, organized by Igor. He tried to help other companions in misfortune, who were held in other prisons and camps.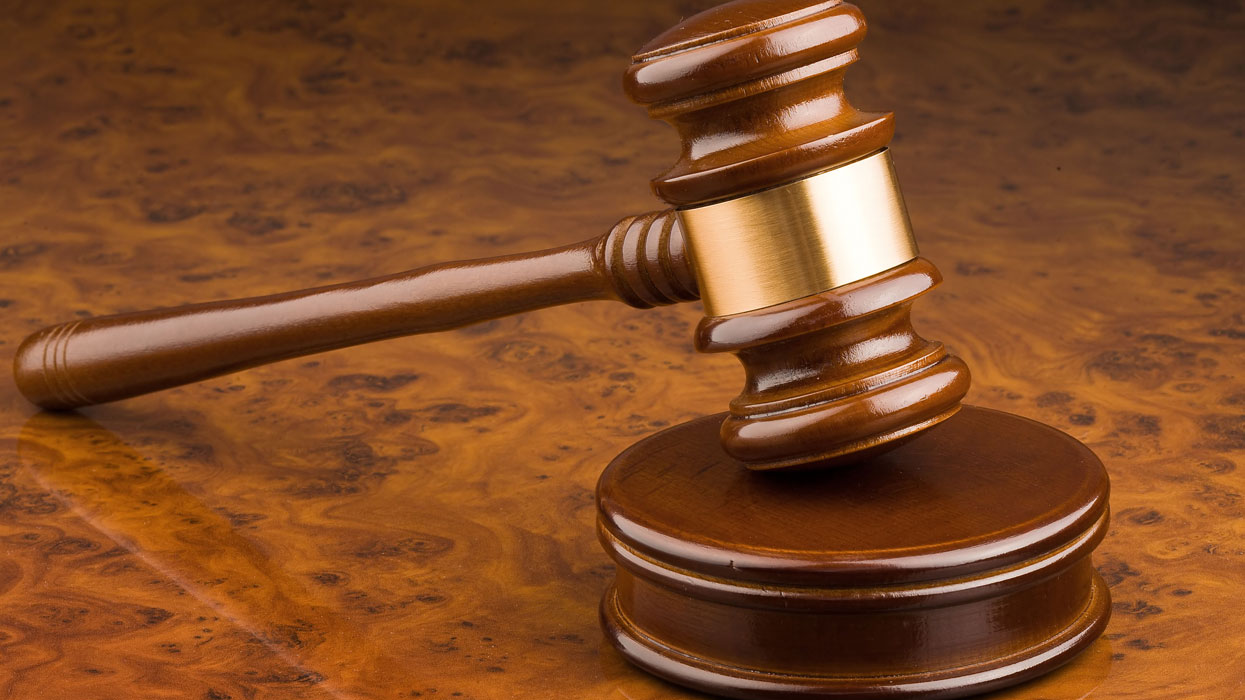 Having spent almost three years in SIZO of Krasnoarmeysk, which was renamed to Bakhmut by the new Ukrainian leaders, he successfully demanded that he wouldn't be kept in a cage during the court hearings, and he could freely sit near his lawyer and participate in the procedure. His lawyer gave up his case, so he continued the fight himself.
"I started to study the Code of Criminal Procedure of Ukraine, carefully read the laws," the prisoner wrote in his social network profile, assisted by his friends at large. "I studied all previous decisions of the court in detail, as well as prosecutor's applications to choose a measure of restraint for me, international jurisprudence. Based on this, I made an application proving the failure of prosecutor's claims and accusations. In the meantime, I gathered documents, certificates and letters from various institutions received in response to my requests, which grounded my position."
Finally, a real miracle, as Igor calls it, happened: the judges decided not to apply any of the preventive measures to him. That is, they just released the man from the courtroom under an obligation to appear at all subsequent meetings.
"Obviously, they did not expect me to give 20 pages of the motion plus almost 60 pages of attachments. And this was against two sheets of the prosecutor's motion," Igor Kimakovsky shared the details of the trial with Tsargrad. "There was my mother in the courtroom, whom I had not seen for several years, journalists, OSCE representatives. To be honest, as I heard the verdict, I could not understand where to go at first. Now I understand that nothing is finished yet, I know that there's a long way ahead, the next meeting is scheduled for June 12."
Now Igor is in the territory of Ukraine. He does not want to disclose his place of residence, although it does not hide from anyone. But at the same time he understands that now some people may come for him, and …
Who knows, maybe they released me for that," he wonders. "This is my hometown, so there are people whom I wanted to visit. I visited the village where I come from, met my former classmates, visited Kiev. I wanted to cooperate with a lawyer that defends the former president of Ukraine, but I understood that I cannot afford it. I suppose that I was released because of the election campaign that starts in Ukraine this autumn. So, many people, including judges, are confused. They do not know what happens next. That is why they made this careful decision on my case."
According to the former prisoner, he finally managed to communicate with the representatives of the Russian Ministry of Foreign Affairs, an agency that paid little attention to him (for three years, a consular officer only once visited Russian citizens who are kept in Bakhmut (Artemovsk) SIZO), but he does not expect a real help from them, as they just "nodded their heads and that's all." At the same time, a new problem appeared, his Russian passport is already out of date, making it difficult for him to go to his home in Russia. Although, the possibility of such a trip is quite dim now.
But the most important thing is that thanks to Igor's efforts in SIZO, three sentences for political prisoners were cancelled, and four more were seriously mitigated, and the time people spent in prison during the investigation and court proceedings were also included. As he studied his case and other cases in detail, Kimakovsky wrote dozens of letters and requests. Also, he gathered dozens of responses from various state institutions that the DPR and the LPR are not recognized as terrorist organizations.
Another political prisoner, who was held in Krasnoarmeysk SIZO together with Kimakovsky, managed to find weak points of the Ukrainian repressive machine, despite the realities of prison life, – this is Sergey Babich a citizen of Donetsk. He had every chance to share the fate of Igor, but he, as a resident of Donbass, was exchanged in December last year. At that time, as mentioned above, Kiev, in fact, took the citizens of Russia hostage in order to exchange them for their terrorists. However, Sergei managed to break the accusation against him before the exchange.
"I was taken in Kurakhovo, in the occupied territory," Babich told Tsargrad. – They knew that I actively supported the DPR. The first eight days they beat me: they used an electric shocker, not just touched me with it, but they kept it on me for a long time, they beat me with a wooden mallet all over the body, they hung me by the arms – I spent all day hung up; they put a plastic bag on my head, so I started to suffocate, they injured my 14 teeth – beat me with butt, twisted my jaw left, then in Donetsk I got ten dental roots removed… I do not even remember how many times I fainted."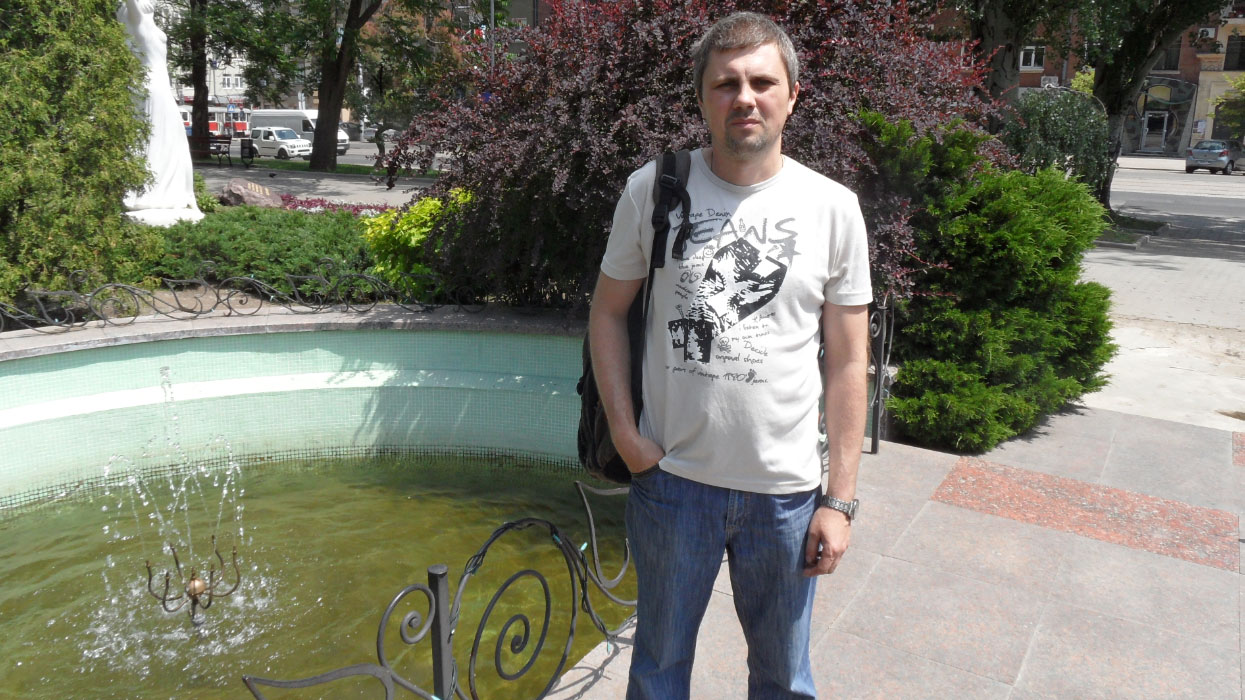 They beat Sergei to coerce him into confession that he was a member of a terrorist organization and also demanded to give his associates in charge. He agreed to the first demand under pressure, but not to the second one, of course. When torture and beating stopped, Babich decided to act, and first of all, he asked what kind of "terrorist organizations" they accused him of membership.
"I studied for two years at a law faculty and I worked for a law firm, so I have an idea of this," Sergey recalls. "I began to make requests to various institutions, and it turned out that there are no such terrorist organizations as the LPR and the DPR in Ukraine, they are not included in the extremist list, as well. So why did they put us under pressure? When I was transferred to Mariupol, I wrote to the regional prosecutor that the indictment was wrong. But during our meeting in the SIZO, his deputy Korshunov said literally the following: "Our mistakes are your problems".
Babich says, he started to lodge complaints against the prosecutors, against an SSU investigator, initiated a case against the judges' panel that chose a measure of restraint for him.
"They told me the following "if a judge releases you, separatist, he will be put in prison instead of you," Sergei recalls. "The judge shouted at me that I would be sentenced to 12 years of imprisonment if I sued Ukraine. But I wrote to Lutkovskaya, the Human Rights Commissioner in Ukraine, that I, in fact, was illegally kidnapped by the SSU staff, so she conducted her own investigation and forwarded the case to the prosecutor's office. They, however, sent just formal replies that it would be inappropriate to inspect the apartment, where I was quite severely detained because too much time has passed."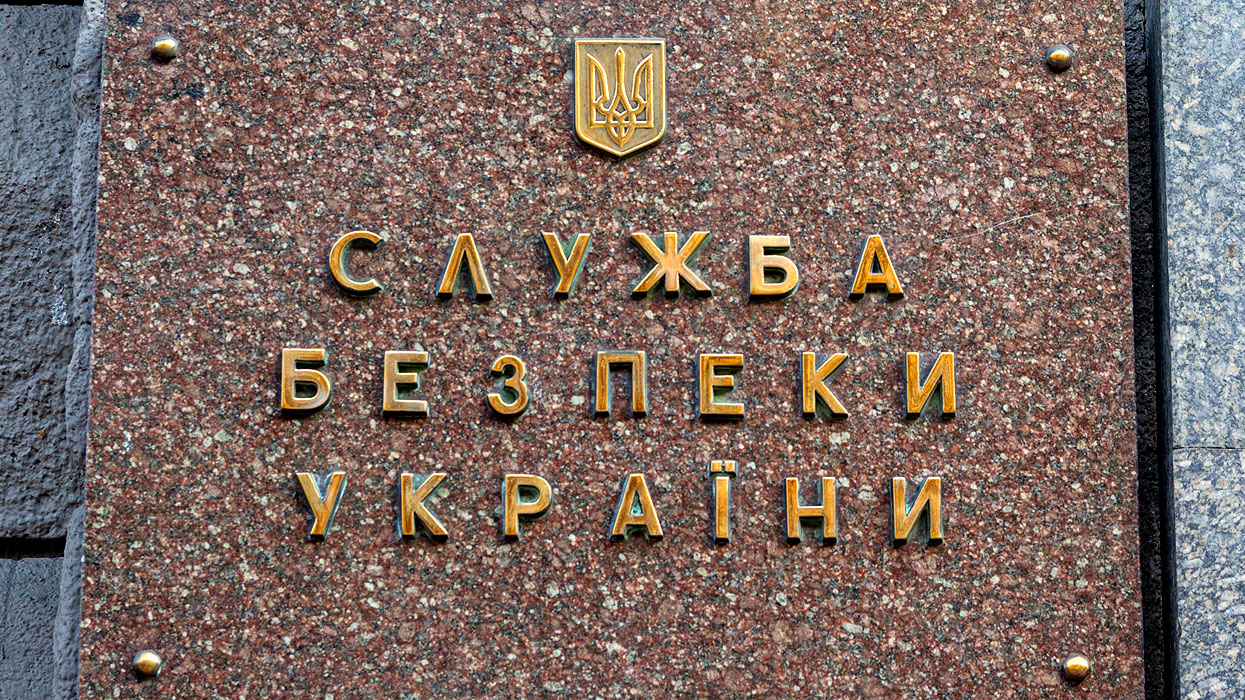 Indeed, while Babich was fighting staying in prison, two years and eight months had passed. But he managed to wreck the charge against him completely. And, most importantly, to receive a response from all institutions: from the Supreme Court of Ukraine to the SSU, that neither the LPR nor the DPR is recognized as "terrorist organizations". And, consequently, it is unlawful to persecute the supporters of the Republic on charges of terrorism.
Taking advantage of this "discovery", Babich began to help other political prisoners and those under investigation. Thanks to this, eight people were released.
"I managed to help one lady, who was accused of assisting a terrorist organization. I helped her to present the case so as she had been kidnapped by the SSU staff, and the police did not react. As a result, they changed the measure of restraint for her; she has been at home for more than a year now. I understand why the judges began to release people more often, declaring them not guilty. In Ukraine, no one is confident of tomorrow, today Poroshenko is in power, and tomorrow, for instance, the leader of the opposition bloc Boyko will be. And there's no guarantee that such women will not start to unravel such cases, when the new power comes, and show people that some or other judges have made unfair decisions," Babich said.
For the time being, Ukraine decided to exchange the undesirable and excessively active person as soon as possible. And they did. Sergei returned to Donetsk, now he works as a miner, recovers after being in prison. But, if there is a need, he is ready to take up again the legal struggle against the junta.
"The authorities came to power through a coup d'état. According to the constitution of Ukraine, usurpers that came to power through a coup d'état, do not have the right to rule the country," Babich emphasized.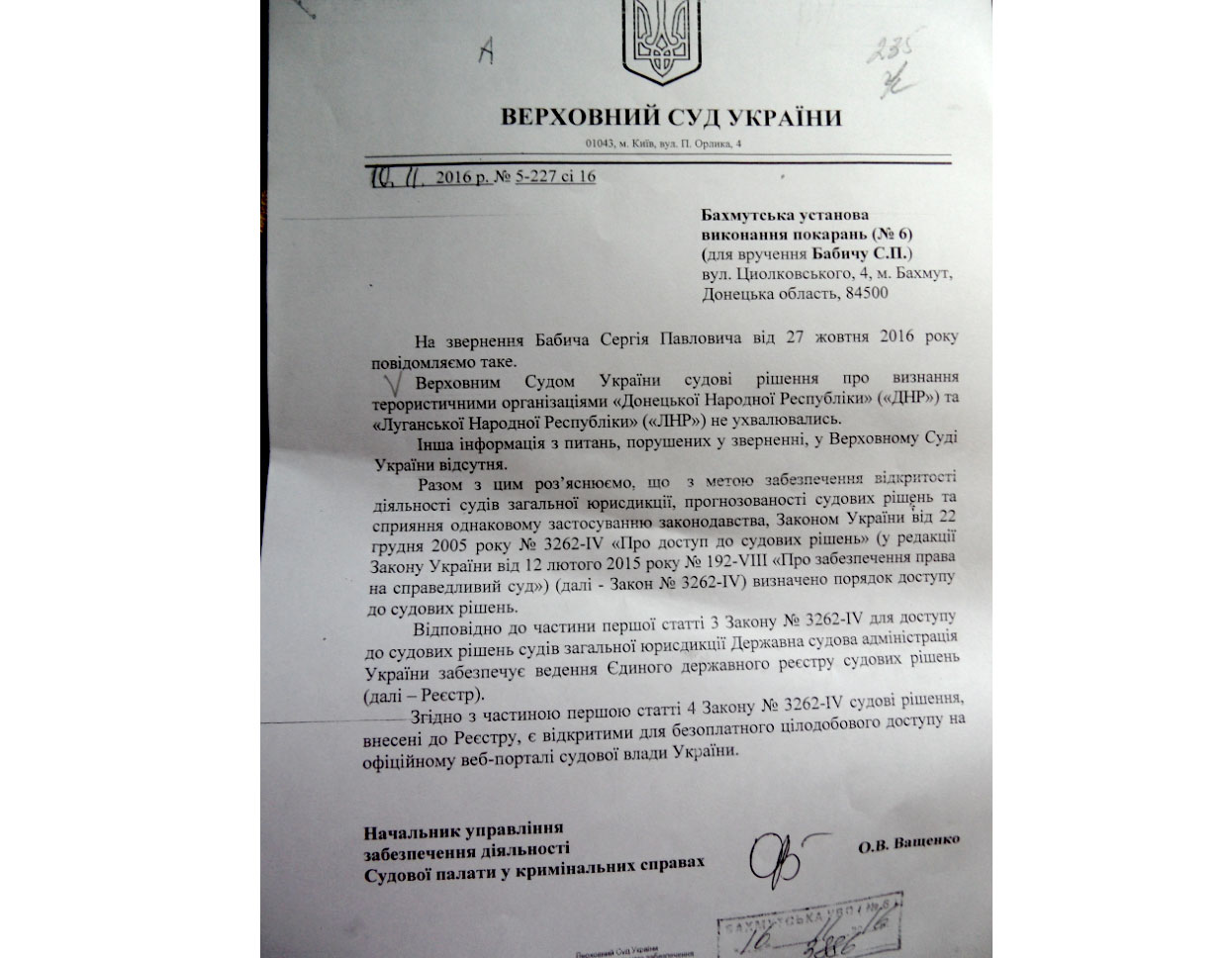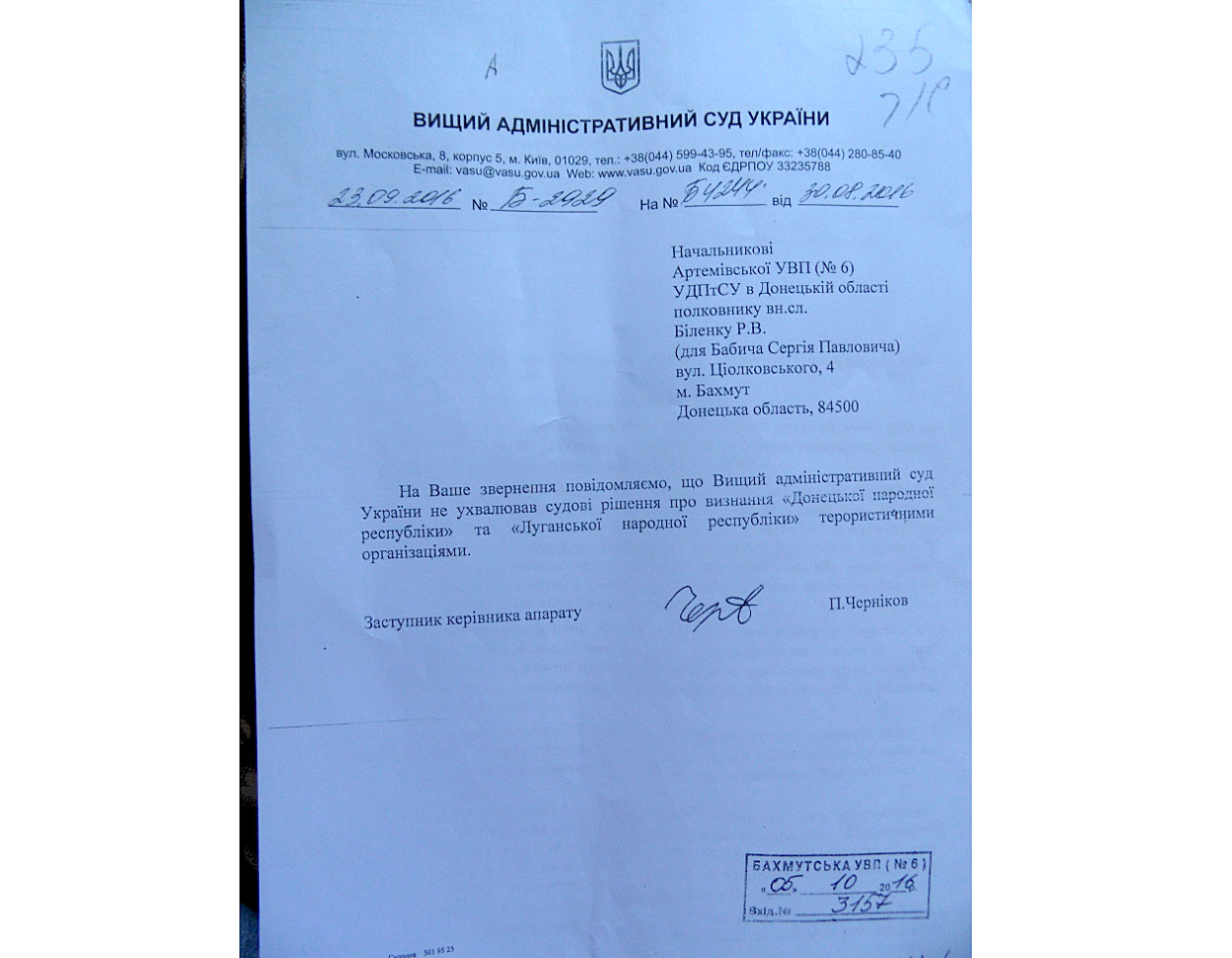 Verdicts of the Supreme Court and the Supreme Administrative Court of Ukraine claiming the DPR and the LPR not to be terrorist organizations. Copies of documents have been provided to the author by Sergei Babich.
Ukrainian judges are worried. Especially these days. And they start working as real judges; adhere to the law, even in a country like Ukraine, where the law is now interpreted the way it is convenient for the new Maidan authorities.
Nevertheless, there is still hope that sooner or later the junta courts will be replaced by the tribunal over the same junta.
Source: TSAR GRAD