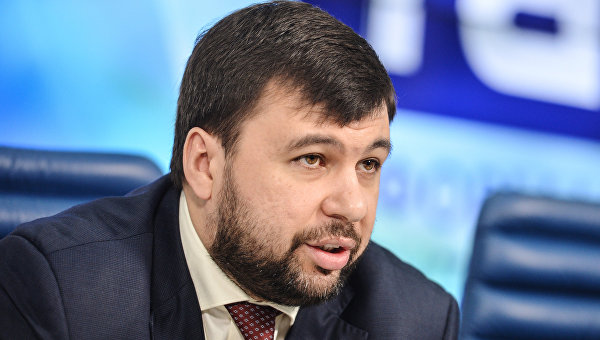 On September 5, 2014 in Minsk, with the mediation of Russia and the OSCE, Kiev and the Donetsk and Lugansk People's Republics signed a protocol designed to resolve the conflict in southeastern Ukraine. It consisted of 12 points and was comprehensive: in addition to the declaration of armistice, the document provided for the exchange of prisoners and a number of political agreements, in particular, the obligation of Kiev to adopt a law on the special status of certain areas of Donbass. In an interview to RIA Novosti, the envoy of the Donetsk People's Republic to the contact group for Ukraine, parliament speaker Denis Pushilin spoke about the progress in implementing the decisions made, the prospects for the development of the situation and the ceasefire.
— Is there any possibility of Minsk-3?
— Now it is unlikely. A Package of Measures (for the Implementation of the Minsk Agreements of February 12, 2015 – Ed.) is an interpretation of previously signed documents. This is a roadmap. And everything is completely simple with it. And no one would simplify or change it. At least we are not going to do so. Therefore, its provisions should be carried out and that's it.
— Why is Kiev delaying the fulfillment of the agreements and how long might it take?
— Now those who are at the helm of Ukraine have a very difficult situation. Kiev cannot either fulfil the Minsk agreements or refuse to fulfill them. Kiev cannot either embark on an offensive or cannot refuse to do so. Each of these options is bad. But these are all the options that Kiev now has. But there is another way out – to delay the process as long as possible. This is what Kiev is doing now. How many weeks or months will they be able to do this? How long will it be tolerated by Western allies, time will show.
— Do you think that it was a good decision to sign the memorandum of 5th September?
— Otherwise there could be thousands of victims.
The fact that it is not beneficial for Ukraine as well as the fact that Ukraine has got trapped is not our problem. For us, this document is also a compromise.
We have signed it, and we are fulfilling our obligations. But Ukraine fails to do so, and they are trying to somehow delay the procedure or misinterpret it to make it more beneficial for them. This is the desire of some individuals. This question is not even under discussion.
— Are there any positive results after signing the first memorandum?
— The most important achievement is that large-scale hostilities have stopped. We cannot say that the war is over, because every night shelling starts along the line of contact. Nevertheless, these are not large-scale hostilities, as they were when we didn't have enough space in the morgues for all the dead. Another important thing is the possibility of the economic recovery of the Republic. Why? Because all the economic, transport, food and energy blockades organized by Ukraine against us pushed us to take care of our citizens ourselves.
— How do matters stand with the social and economic development of the Republic?
— Almost 4 million people live in the DPR and LPR. That's a lot. It is a large territory. There are countries smaller than the DPR and the LPR. Realizing that Ukraine is not likely to change its attitude to what is happening, we undertook this responsibility. Economic recovery is much more successful without active hostilities. Of course, there are many issues, but unlike in 2014, we now have full stores, independently pay pensions and benefits, and create new jobs. Utility rates remained at the pre-war level in our country, and in Ukraine, some of them increased tenfold.
— Is it thanks to the first memorandum?
— Yes
— Can you tell that the signing of the first memorandum gave a new start to the Republics?
—  In fact, the Minsk agreements were drafted on September 5th. Ukraine was not eager to cooperate, their position was rather destructive, so additional clarifications and signing of additional agreements were necessary. Nevertheless, it all started on September 5, when we gathered and started to negotiate. And what is still important for the Republics, we have become subjects of negotiations. For us, it is an international platform with the opportunity to express our position, declare the interests of citizens and Republics. It is crucial.
—  How Kiev's position changed two years after signing the first agreement?
—  Kiev signed it in fear and uncertainty, and under pressure from the international community. For Kiev, it was also important to sign. Then, they did not think about how they would do it. They were guided by the rule: let's sign, and then we will find a way out of this situation. Now they are at the stage when they are trying to get out of this situation. They are trying to find ways not to implement the Minsk agreements, but at the same time seem nice to western partners. But the situation is such that many are beginning to realize how Ukraine actually behaves. Moreover, the situation has been aggravated by their attempts to carry out terrorist acts in the Crimea. We saw certain hints addressed to (President of Ukraine Petro) Poroshenko. One of them was the absence of the leaders of major European states on the celebration of the 24th (August – Independence Day in Ukraine – Ed.). We may observe that the "Normandy four" is beginning to transform. Shall it be stable or not, time will show, but now it is, in fact, the "Normandy three" to some extent. Actually, we do not consider Ukraine to be a subject of decision-making. We understand that the main decisions are not made in Kiev. But now it is becoming obvious to everyone that they will talk about the fate of Ukraine without representatives of Ukraine.
— Do you believe Kiev was willing to fulfil its obligations in 2014?
—  In fact, Ukraine was not going to fulfill the agreements. They expected different scenarios that would allow them to do nothing and shrink from their obligations. They hoped that the economic and transport blockade in the DPR and LPR would crush and destroy the Republics. And then there would be no one to fulfil obligations for. Kiev expected other actions from its western partners. But we can see that the DPR and the LPR, in fact, can manage without Ukraine. Now we are not dependent on the will and ambitions of Kiev. Everything went wrong for Kiev.